TRADITIONAL CABINETRY STYLE
Traditional cabinetry never goes out of style and has a formal, elegant look. It incorporates design elements from different centuries, allowing homeowners to feel comfortable and elegant at the same time.
Features of Traditional Style Cabinetry
A key indicator of traditional cabinetry is the panel choice. Modern kitchen styles are all about simplicity when it comes to the cabinetry style, but traditional designs focus on cabinets with embellished style. So, instead of contemporary flat cabinets, this style incorporates raised and recessed panels.
Decorative Molding
Decorative molding is a timeless classic for a traditional kitchen. Consider the options, wainscoting on the island, crown moldings, corbels, and furniture-like pieces with embellishments in every area of the room. In fact, everywhere you look in a traditional kitchen, there should be an element of adornment, architectural design, or enhanced pieces with decorative accessories.
For example, you might opt for a braided rope look, geometric designs, dentil molding, or other carved designs. Consider also, carved details on the range hood and fluted corner posts on islands with open shelving.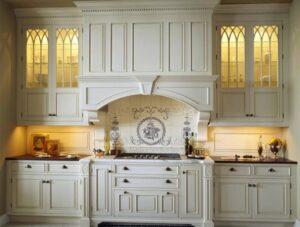 Glass Inserts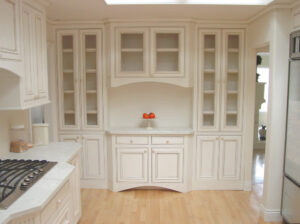 Cabinet doors that feature decorative glass fronts are perfect for traditional kitchens. In this way, the cabinetry adds to the decorative furniture look of the style. Consider how turning a storage area into something to look at and admire makes traditional style so striking.
Moreover, cabinets with glass fronts add form and function. For instance, breaking up the monotony of repetitive cabinet fronts allows for the display of decorative plates, serving platters, and other favorite pieces of kitchenware. Glass cabinets also create an illusion of depth, making a smaller space seem more expansive.
Roots of Traditional Style
The natural evolution of 18th- and 19th-century European decor defines this style. Though you'll most often see traditional design influenced by European decor, it can incorporate elements from England, France, or even the far east. True, traditional techniques orderly aesthetic can feel dull and staid, but it's predictable for a reason. Consistency is vital. Traditional design seeks to create a calm, orderly space, so furnishings will match, symmetry is huge, and everything seems to just go together.
Traditional style spaces are defined by classic features that add both livable function and enduring beauty that stand the test of time. So, think about small details and individual characteristics. It's also common to see antique or aged cabinet finishes. Distressing techniques and glazing options create this more "worn" look. Trademarks of a traditional kitchen are raised panel cabinets, luxury countertops, and decorative details & accessories.
TRADITIONAL CABINETRY – other options to consider
Add detail and use decorative accessories, but keep the back-splash simple.
Everything matches – lighting, cushions, and rugs also match in style and color.
Wood tones, deep, rich; think walnut, cherry, mahogany, and oak.
Include intricate patterns such as florals, paisleys, chinoiserie prints, and muted stripes.
Bin-style handles add to the traditional character.
Matching metal – brass, bronze, or copper with a satin, not shiny, finish.
Merrell Building has traditional cabinetry options to help take your project to the next level. Likewise, we offer free consultations, straight-forward sales, and a professional project management approach. We have the expertise to help with your project, so give us a call today. Let us provide you with innovative design concepts, recommend layouts, and cabinetry styles to help maximize your space.