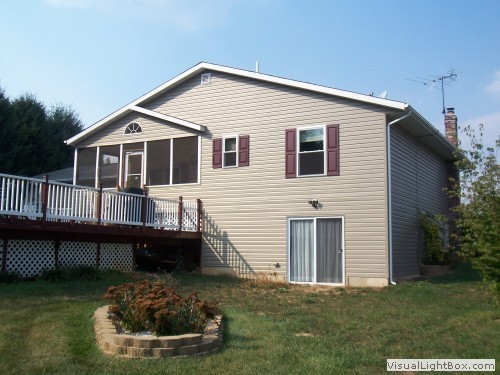 Researching the Best Siding Options
Whether you're building a new home or upgrading the appearance of your existing one, deciding on the best siding options can be a challenge. It's important to know what your options are when it comes to colors, designs, and materials. Researching the details is the key to making a wise decision for your home on what the best siding options are. When considering options for giving your home a fresh new appearance, there are a few styles that stand out as the most preferred in the bunch.
Clapboard Siding Options
---
Clapboard is the most traditional siding option currently on the market. Other names for this siding are bevel siding, lap siding, and weatherboard.  Wooden siding of a building in the form of horizontal boards, often overlapping, clapboard's design uses long, narrow boards of around 4″. Planks nailed lengthwise to the wall of the house overlap each other, top to bottom. The overlap of planks produces a shadow line that creates an interesting profile.
In North America, clapboards were historically available in split oak, pine, and spruce. Modern clapboards are available in red cedar and pine.
In some areas, clapboards were traditionally left as raw wood, relying upon good air circulation and the use of 'semi-hardwoods' to keep the boards from rotting. These boards eventually go grey as the tannins are washed out from the wood. More recently, it's common to paint or tar clapboard —traditionally black or white due to locally occurring minerals or pigments. In modern clapboard, these colors remain popular, but with a hugely wider variety due to chemical pigments and stains.
This option looks exceptional in practically any color.
Vinyl Siding Options
---
Vinyl siding came into the market, replacing aluminum siding in the late 1950's. This siding option wins popular favor with its appeal, durability, easy upkeep, and excellent value. It's a plastic exterior for houses and small apartment buildings, used for decoration and weatherproofing, imitating wood clapboard, board and batten, or shakes. Additionally, vinyl siding is inexpensive, easy to obtain, popular, quick to install, and simple to maintain. Uniquely, vinyl siding's color is baked-in; therefore, it does not need to be painted.
If new siding is in your future, keep these three key considerations in mind when looking at the vinyl option:
Vinyl siding isn't for everyone; you have to like the way it looks on your house.
Not all vinyl is created equal; you'll need to learn how to pick a quality product.
You'll need a competent contractor. Proper installation is at least as important as product quality.
Metal Siding Options: Aluminum and Steel
---
Metal siding comes in a broad range of styles, including horizontal and vertical strips and panels, as well as shingles. At a distance, it is hard to distinguish metal siding from wood. Metal is commonly a retrofit siding and sometimes applied directly over wood siding when the desire for low maintenance wins out over aesthetics or when the wood siding is severely damaged. In North America, clapboard material is historically split oak, pine, and spruce. While metal is a durable material, pre-finish paint finishes tend to fade, chalk, and bleed onto brick walls below the siding. Newer versions tend to be more color-fast than their predecessors. It is now available with some special plastic or vinyl coatings for additional resistance to fading and weathering.
Deciding on the Best Siding Options
While there are several options to choose from, these are the ones most common on modern homes and which typically offer the cleanest, most forward-thinking appearance overall. Speaking with a professional can help you uncover the best siding options for your home and ensure you choose the perfect match for your home that you will never tire of with time.