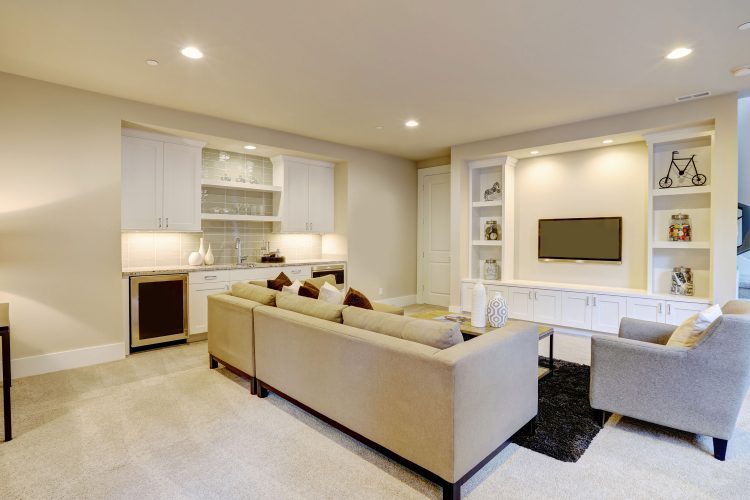 If you've been thinking about a home remodeling project that can significantly contribute to the enjoyment of your home, as well as add value, look no further than a basement remodel.  Basement remodeling in Westminster, MD, holds a multitude of fun and practical possibilities. A finished basement is a great way to add a substantial amount of livable square footage without building up or out.
Options to consider for basement remodeling in Westminster, MD …
If you're a movie buff, a gamer, or just someone who wants to enjoy the best quality entertainment options available, consider including a home theater in your basement remodel in Westminster, MD.  Whether it's family movie night and chilling or a get together for the big game, a big screen equipped with a surround sound system makes it way more exciting.
A sizable TV combined with an in-wall/ceiling surround sound system can turn your basement family room into the most popular hangout in the home.  Use custom cabinetry to hide the cable box along with other media devices and wires.
Exercise Room
---
You'll no longer have an excuse not to exercise when you have a fantastic home gym in your basement.  Basement remodeling in Westminster, MD, can be tailored to your unique exercise needs. From an extensive home gym for intense workouts or something as simple as a treadmill and a stretching area, Merrell Building can help bring your vision alive.
Your personalized basement workout space doesn't have to be fancy or expensive. Be sure to consider:
Mirrors: Reflect ambient light so you can see what you're doing & importantly help you evaluate posture & form while exercising.
Storage: Keeping equipment & weights out of the way is vital to avoid accidents.
Music: A good beat is a must-have for any successful home gym workout.
Hydration: The key to exercise – include a mini-fridge to keep healthy beverages at your fingertips.
Feng Shui: Add some indoor plants, and keep clutter at bay so you can focus.
If you, like many people nationwide, are working a telecommuting job or even just spending some of your time at home doing work-related activities, think about setting up space specifically for this purpose.
If your home office is currently in the kitchen or other high-traffic area, chances are you have difficulty finding uninterrupted time to focus. Your basement can be the key to a highly-functioning, quiet home office space.  The addition of shelves, desks, and credenzas will help to create an ideal area free from distraction suited to you.
Have a place to put everything and everything in its place!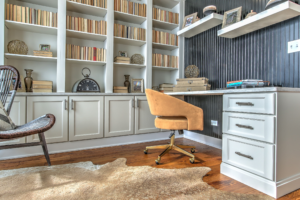 Have a sturdy writing surface; a desk or even an old table can work well. A comfortable workstation contributes to an optimal work environment which allows you to be more productive.
Importantly, be sure to have comfortable seating. Failing to sit with correct posture creates tension on the back muscles and ligaments. The incorrect posture can then cause severe back pains.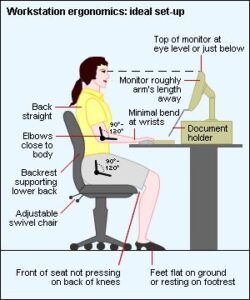 Appropriate office lighting is a workplace necessity. Poor lighting directly affects work performance as it puts a strain on the eyes. It can also lead to further problems like headaches and eye illnesses. Apart from the necessity factor, proper lighting also brings aesthetic advantages to your workplace.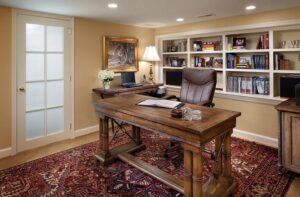 Additional Tips
---
Basements hold a multitude of fun and/or practical possibilities:
Family Playroom
Wet Bar / Entertainment Room
Teen / Guest Bedroom
Man Cave
2nd Living Room
Whatever you choose to do with your basement remodeling in Westminster, MD, follow these guidelines for the best outcome:
Lighting: As basements are often window-less and dark, it's crucial to pick the appropriate lighting. Recessed lighting is a great option because it doesn't come down from the ceiling and make an already-compact space appear smaller. Add layers of ambient, accent, and task lighting just as you would in your other living spaces.
Flooring: Basements often have cold, concrete slab floors that are unwelcoming to a guest. You'll also need to consider the dampness factor. Waterproof carpet tiles, laminate, or engineered wood flooring are all ideal choices for basements.
Color: Painting the walls white, or a light color, makes many of the lines, bumps, and imperfections recede from the eye. Keep the ceiling a light color to make it appear higher, whether you're painting it or adding dropped ceiling tiles.
Make an investment in your home and your comfort
Finished basement remodels in Westminster, MD are a great way to add a substantial amount of livable square footage without building up or out. Our remodeling team has completed some of the most stylish basement remodeling projects throughout Maryland.  We work cooperatively with our clients to design & build your ideal basement space.  Importantly, we do this while delivering quality workmanship in an efficient and timely manner.