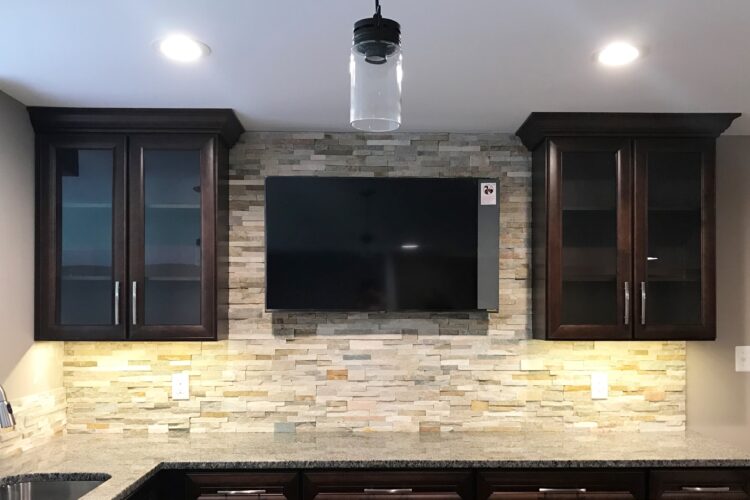 Adding a backsplash to your kitchen remodeling project is a great option. The backsplash acts as a protective cover for the portion of your kitchen wall between your cabinets and counters.  It's easy to get caught up with the more significant aspects of kitchen remodeling, but the minor elements are just as essential.
A beautiful backsplash is an integral part of your kitchen's decor. It can be a simple, clean tile that protects susceptible areas while it lets your cabinets, counters or fixtures stand out. Or you can choose to make the backsplash the focal point of the kitchen with an attention-getting accent tile.
Simple Protection
One of the most significant advantages of adding a backsplash to your kitchen remodel is protection.  While preparing meals, food particles, sizzling oil, and other spatter, launch themselves at your kitchen walls.  The backsplash is a vertical extension of the kitchen counter, which protects the walls from these mishaps.
With the amount of abuse kitchens get, it is unthinkable not to have a backsplash. Extending a few inches or as high as the ceiling, the backsplash protects kitchen walls but also adds visual appeal.
A More Attractive Space
---
Although it's primary function is protection, there's another reason to consider adding a backsplash to your kitchen remodel.  Adding a backsplash makes for a more attractive space!  No matter what your style or the overall look of your kitchen might be, there are plenty of design & material options for your kitchen.
Often, the same material used to make the counter is also used to make the backsplash.  However, this isn't necessary or required.  With an array of colors, shapes, sizes, and materials to choose from, you can allow your creativity to flow. Some common materials used are:
Bring the Look of Your Kitchen Together
As you're putting together your new kitchen design, you might feel something is missing; something to brings together the look of your new cabinets, faucets, and floors. Once you add a backsplash, you're likely to experience the satisfaction you've been seeking. Backsplashes are a great way to keep your remodel under budget while getting the look you desire.