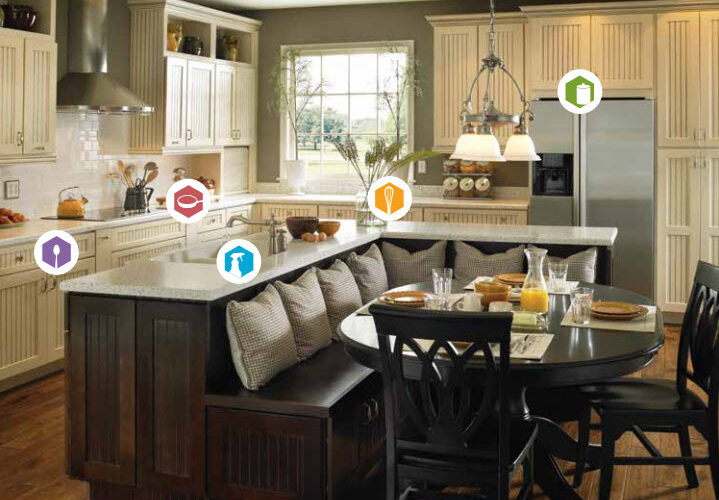 Zones help redefine your kitchen and maximize available space. The kitchen zone concept, as a result, creates an efficient, organized, and beautiful environment. In other words, helping to make your kitchen the gathering place in your home.
---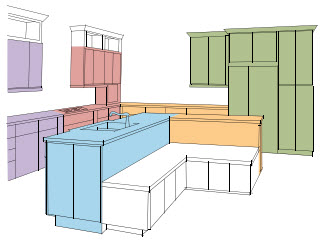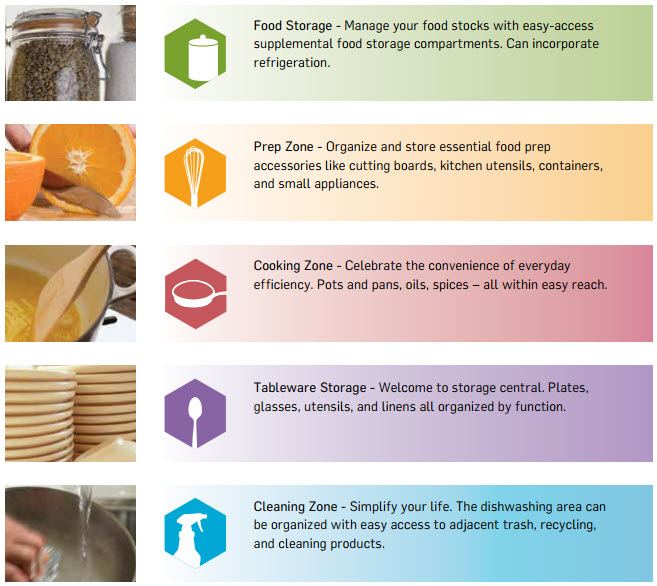 When Redefining Your Kitchen, Go For Organization
The kitchen is the heart of the home. Think about the time you spend in the kitchen. On average, Americans spend 37 minutes in food preparation and cleanup. Consider, how much of that time do you find yourself walking here and there, bending down, or kneeling to reach what you need? The kitchen design should optimize movements and minimize the stress we put on our body while performing everyday kitchen activities.
The concept of zones blends the ergonomics of the traditional work triangle with decluttering simplicity. Regardless of the size or layout, every kitchen should be divided into five zones.
Zone 1: Food Storage
Tip: Having a counter surface next to the refrigerator helps you store your groceries or take food out without keeping the fridge open for long (or having to open and close a heavy refrigerator door a gazillion times).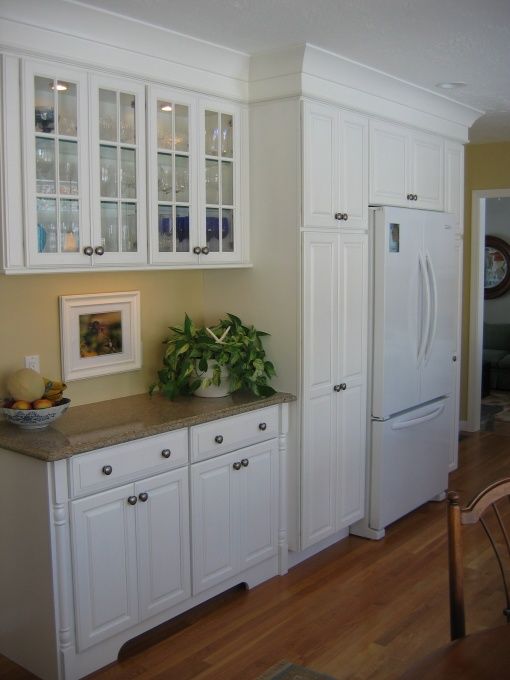 A food storage area – includes refrigerator, freezer and cabinets to store non-perishable food.
The goal of this zone is to provide drawers that store provisions out of the way yet within reach of the cook. Cabinetry in this zone is comprised of pantries, pullout shelves, and lazy-susan. Pull-outs and lazy-susans also significantly increase the storage space and are very easy to organize and maintain.
Redefining your kitchen with tall, full extension units enable you to plan and organize your food storage. So, you can reach frequent items without bending. You should be able to see and reach every accessory with ease.
Zone 2: Food Preparation
Tip: All the items needed to prepare food (like utensils, chopping blocks, oils and spices) should be stored and organized within this area.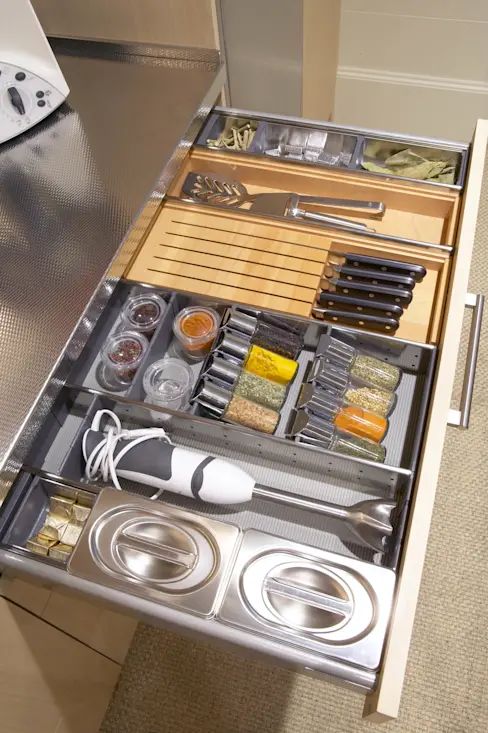 Create restaurant like efficiency by keeping all your essential tools close at hand in the Prep Zone. Cutting boards, knives, spices, and small appliances can all find a home with solutions. For maximum efficiency, the Prep Zone should be adjacent to the Cooking Zone. Proximity to the Food Storage and Cleaning Zone areas would be convenient as well.
Zone 3: Cooking
A cooking area with cooktop and hood.
Tip: There should be enough storage space near the cooktop to neatly keep pots, pans, lids, and cooking utensils.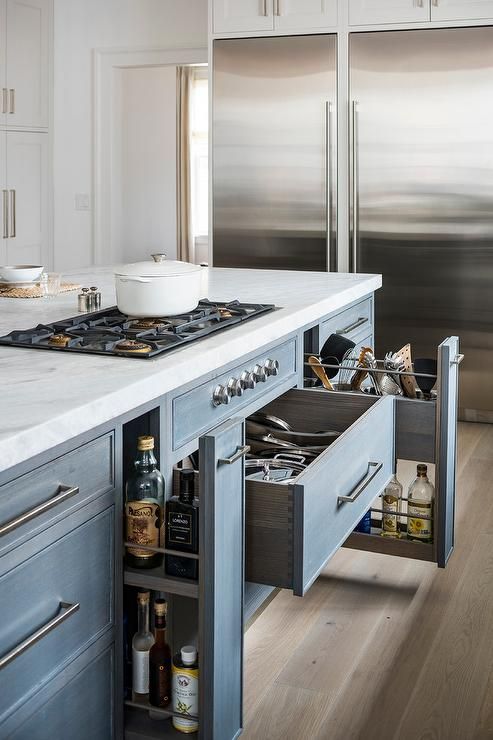 Ideally, food and cooking utensils should be near your stove and under wall units. In this zone, the goal is to incorporate useful cabinet options to store oils, condiments and spices within easy reach, where you need them the most. Popular items include: spice racks and full extension pullouts, which provide complete visibility and immediate access.
Zone 4: Tableware
A main storage area for all non food items.
Tip: Ideally, this storage area should be close to the Cleaning Zone and the dining table.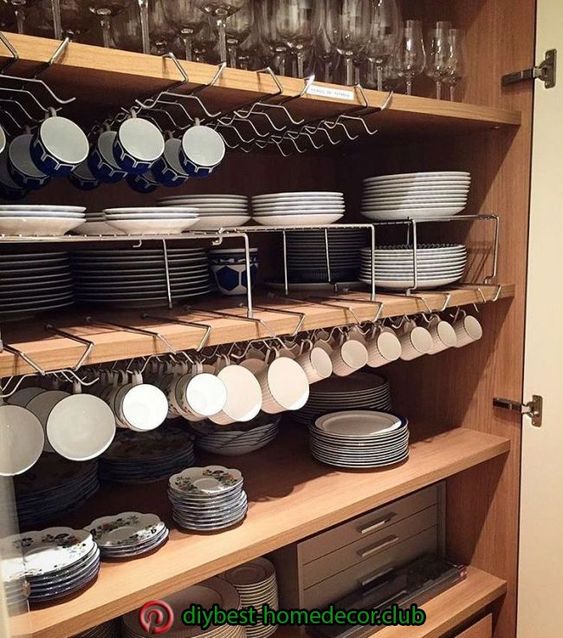 Drawers with a range of organizers offer stacking space for cutlery. china and other kitchen gadgets. Wall cabinets should have doors that open up. rather than conventional swinging doors. so you can work safely and quickly. Pull-down systems that bring items down to the user are also an efficient use of space.
Zone 5: Cleaning
A cleaning area with dishwasher and sink.
Tip: This area should have all cleaning supplies right at hand and well-organized (so you can immediately spot what you need without over-reaching).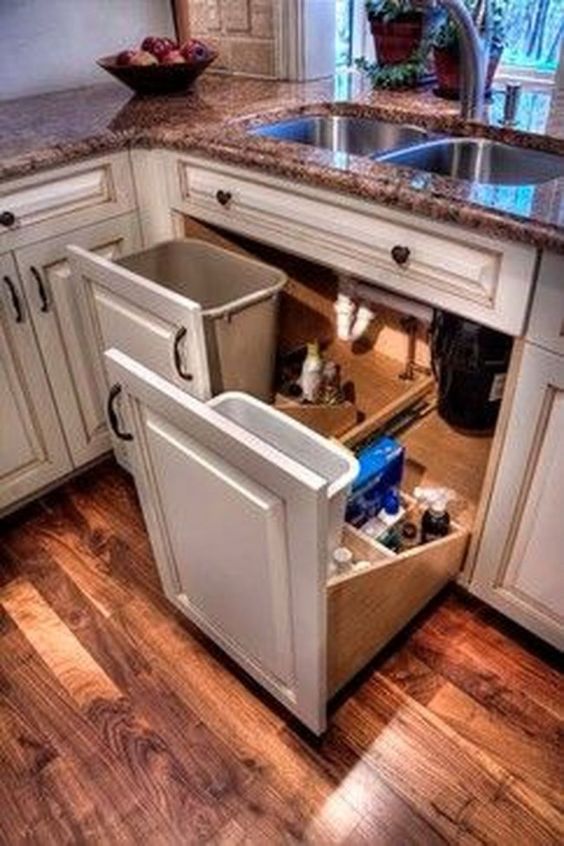 Make cleanup a breeze with a well designed Cleaning Zone centered around your kitchen sink. From pull out storage for cleaning items and dish towels to waste containers and recycling centers. Add efficiency to your Cleaning Zone by designing it in proximity to your Cooking, Storage, and Tableware Zones so dirty dishes from cooking go right to clean up and clean dishes from the dishwasher can be easily stored away.
Redefining your kitchen with zones helps you to maximize your available space regardless the size of your kitchen. Call or schedule online with Merrell Building for your kitchen remodeling project. Find out how we can help eliminate wasted space in your kitchen.